Google Meet - Video meetings online
In recent times, when the Covid-19 epidemic broke out and there were many unusual happenings, many companies had to work from a distance, and schools organized online lessons. Applications supporting online learning work such as Zoom Meeting, Cisco Webex Meetings, Slack,… increasingly popular with users and of course need to know about Google Meet.
Google Meet is a video communication service developed by Google. This is one of two alternatives to Google Hangouts besides Google Chat. Premium video meetings. Now free for everyone.
Google Meet allows users to learn / meet online over the web on the web platform integrated in Google's G-suite. This is one of the completely free Google applications to support online lessons / meetings with a large number of participants, up to 100 people.
The Google Meet app was officially launched by Google in March 2017. Google Meet is quite similar to the Hangouts service, but is committed to handling quality images and sound more stable. In addition to the version running on the website at https://meet.google.com/ Google Meet is also released as an application available on iOS and Android with features for G Suite users, including:
- The app allows up to 100 members to join each call for G Suite Basic users, up to 150 for G
- Suite Business users, and up to 250 for G Suite Enterprise users.
- Users have the ability to participate in online meetings / study on website platforms or through Android or iOS apps.
- Password-secured online meeting / study sessions for G Suite Enterprise edition users.
- Integrates with Google Calendar to schedule online meetings with just one click.
- Screen sharing to present documents, spreadsheets, or presentations.
- Calls are encrypted between all users.
- Closed captions based on voice recognition.
Some notes when using Google Meet services
- All Google Meet users need a Google account to sign in.
- Users have the right to set up and host an online meeting or an online session.
- The number of people participating in online learning/online meeting can be up to 100 people.
- If you use a computer device signed in to use Google Meet, please use the Google Chrome browser because this is the Google Meet browser that works best.
- Google Meet supports access on smart phone devices, both on iOS or Android platforms.
- Google Meet is easy to use and it's completely free.
- This application is integrated with other tools on G-suite such as: Calendar, Classroom.
- Google Meet has no time limit for online meeting/learning.
Note: You won't be able to use Google Meet on a mobile device without signing in to your Google or Gmail account.
A guide to using Google Meet for online learning/meeting
Creating meetings on Google Meeting is really simple. You can sign in to Google Meet from your Google or Gmail account and click on the Google Meet icon.
Google meet select icon
Google meet create meeting
Click to New meting and you have three options:
- Create a meeting for later: Create meeting and send request, send meeting information at any time.
- Start an instant meeting: Instantly create meetings.
- Schedule in Google Clendar: Created and select from your Calendar.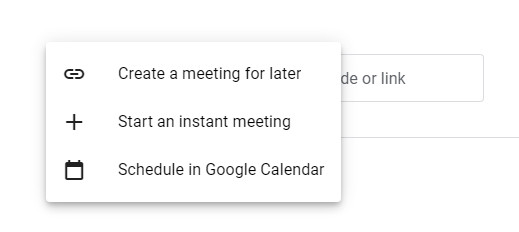 Google meet create meeting
Google meet url
Invite other members to join this online meeting by copying and sending the meeting URL link, or you can also choose Add people to invite others to the online meeting.
The recipient only needs to see the link sent and wait for confirmation that the meeting can connect.
To present in a meeting, select Present now, select Your entire screen and open the file for presentation.
Through this article, hope you can better understand what Google Meet is and apply it effectively.
Google Meet - Create video meetings online
Home page: https://meet.google.com
For Mobile Download: